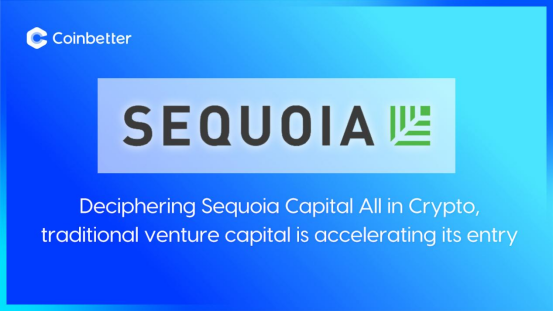 On Feb. 17th, CoinDesk reported that venture capital firm Sequoia Capital is raising between $500 million and $600 million for its first industry-specific crypto fund, which will focus on investing in liquid tokens, including those listed on cryptocurrency exchanges and those yet to be listed. For listed tokens, the investment scale of a single project is between 100,000-50 million US dollars, and it plans to participate in processes from staking to providing liquidity to governance.
The fund is one of the first sub-funds launched after the firm announced a major restructuring last October, and Sequoia's first sector-specific fund since its inception in 1972.
This caused a huge reaction in the Crypto market.
You know, Sequoia Capital has been paying attention to the crypto track since 2014, and has explored the entire track to invest in multiple cryptocurrency projects through equity and token trading. Among them, the crypto projects invested by Sequoia Capital China include Huobi, Bitmain, Nervos Network, Conflux, Animoca Brands, etc. The crypto projects invested by Sequoia Capital itself include Filecoin, FTX, Fireblocks, StarkWare, BitClout, Iron Fish, Parallel Finance, etc.
Overall, Sequoia Capital's investment types almost cover the current hot mainstream tracks, including centralized exchanges, Layer1, Layer2, DeFi, GameFI, NFT, and WEB3.
There are various signs that Sequoia Capital's involvement in the crypto industry has further expanded. Just as Sequoia Capital partner Maguire said in the latest interview: Cryptocurrency will become the biggest trend in the next 20-30 years.
The continuous development of the cryptocurrency compliance business has not only built a compliance bridge with the traditional financial world, but the value and prospects of the crypto industry itself have also begun to be recognized by mainstream institutions.
In fact, in addition to Sequoia Capital, some venture capital institutions are also accelerating the deployment of the crypto track, such as Goldman Sachs, IDG, SoftBank, Qifu Capital, ByteDance and so on.
As more and more large institutions around the world begin to deploy the crypto track, the mainstream financial industry's impression of Crypto has greatly improved. Compared with before, the traditional venture capital investment mentality that is now entering the market has changed dramatically. Now, traditional VCs are more inclined to invest in blockchain long-term in a legal and compliant way. This kind of thinking is becoming more and more obvious as the United States, Canada, Hong Kong and other places open up cryptocurrency trading platforms and licenses such as trust funds and ETFs.
When the compliant exit channel is opened, the industry prospects will become clearer, and more traditional institutions will begin to change, and specialization and refinement will become an inevitable development path.
Because of this, Coinbetter has always adhered to the development of compliance in the process of development. This can be seen from the fact that Coinbetter has successfully obtained dual MSB licenses in the United States and Canada.
Of course, Coinbetter will not stop there. It will adhere to the licensed business strategy, operate the exchange in a transparent and compliant manner, and secure funds. It will become another piece of value for investors and better serve users.